The Young Ones
Sure, Mozart wrote symphonies when he was 3, but did he have a:
FOSTEX X-15 MULTITRACKER!!!!!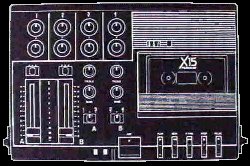 The Young Ones takes its title (and only its title) from that zany British comedy show that was on MTV back in the day. It became a title for a song of mine -- the lead-off song of this album. Most of the songs on this album were written during my high school years, but when I received a graduation gift from my Mom and Dad of this multi-tracker, they quickly went onto tape. These recordings are sometimes very rich, as I tested the limits of four tracks. (Later I would scale down my ambitions.) But they are also fuzzy, furry, and done in white heat without much interest in revision.
This text will be replaced by the flash music player.
1. The Young Ones
A song that I composed over many years, and had an entirely different set of lyrics for a while called "Child of the Sea." (wink, wink Dio) This recording was made pretty much as soon as I took the Fostex out of the box in summer of 1985. Laid down drums in the J.H. Rose High School band room on the stage band white Premiere kit. Piano, guitars, bass at home. Lugged the machine up to a music store (Cha-Rich) where I used to deliver pianos and laid down some sort of Korg synth. Vocals are interesting; I originally had a vocal track, but when I was working with Greg Travis at NCSA (see "Mr. Charlie") I asked him to sing on some of my songs (because he was soooo much better than me). He laid down this vocal 1987-ish, and I permanently erased my old vocal. He changed lyrics as he went, with my approval. But I write my original lyrics here.
The teacher has their name in her little book
The first day of school she gets her first look
One by one they march in from the hall
Sit at their desks as the role is called
Listen to everything she has to say
Learn all the rules they have to obey
They used to be anxious now they wonder why
Everything they heard was all a lie
It used to be better when we were younger
The simplest things fed our cerebral hunger
There used to be a time when we were free
Now we're locked in a cage of maturity
Their young imaginations tell them where to go
Watching John Wayne on the T.V. show
The army seems to them like a game
Wait until the government steals their name
The young ones get away with all infractions
Their juvenile minds excusing their actions
When they grow old they must play it straight
It's just another little quirk of fate
It used to be better....
The government has us in its little black book
We turn eighteen and they give us the look
Now we're all numbers on a file somewhere
That's just the way it is, fair is fair
Listen to everything they have to say
Learn all the rules we have to obey
We used to wish that we were finally men
Now we all wish we were young again
It used to be better...
2. Free At Night
Another song composed over two years or so and taken straight to tape when I uncorked this multi-tracker. Recorded a couple of times, I present my first one here. Drums, Guitar, Bass, Vocals at home. "Free At Night" is my paean to sneaking out, and is dedicated to David Clanton.
I can still remember it as clear as day
Seems not long ago, seems like yesterday
I was too young to know wrong from right
The things I used to do in the middle of the night
I was free in the night
No one in the house would hear me sneak away
Never knew I was out until the break of day
I never knew what I was going to do
But the streets were mine and I did what I wanted to
I was free in the night
Empty street and dew on the ground
A few hours at night I owned the whole town
They'd all wake up with an uneasy feeling
'Cause they knew someone out there's not sleeping
The sky grew light and the paperboy came out
As I slipped quietly into my house
Didn't wake up until well after noon
Began making plans for my next date with the moon
I was free in the night
3. The Sun's Song
A very happy song, dedicated to hanging out at 'Stuart's Lot' and those old freedom days. Recorded summer, 1985 in "incomplete" fashion: one track each for two Pianos, Bass, and Vocal. All of these songs have direct influences that I can usually name, but this has some crazy nods to Mahler 1st, Aaron Copland, Simple Minds, and the "Safety Dance" by Men Without Hats. Yes, I guess I was influenced by MTV despite myself.
Hey, see the sun rise
See it with my own two eyes
The light is breaking through
Hey, the air is fresh now
It doesn't even matter how
'Cause I'm coming home to you
I've been away forever but I'm home again
Hey, let's get together and tell me how you've been
Oh remember way back when
We didn't care what we were in
We just drove the countryside all day
Four-wheelin' there, pull over here
Lay on the hood and drink a beer
It didn't matter what the parents would say
And now we can have our way once again
Leave everything behind, take a case out to Uncle Ben's
Yeah, the sun will stay, we have all day
We have all week to waste away
Bring the girls and bring the gang
We'll go out and have our day
Joe's back from school and Bob's still cool
Jill kept her word, she said she'd stay
Here is Steve, he's home on leave
Lisa's home and I can't believe today's our day
So let's go out and play
Play the Sun's Song
There's no way we can go wrong
And from now till God only knows when
I will always be here to be with my friends
And I home that the Sun will always see
And I hope that they will be there for me
And together we will sing the Sun's Song
4. The Darkest Night
Written in 1984 or so and put on tape in 1986, I think. I've always thought of this as my one true Metal song. One day I want to re-record it with Ronnie James Dio singing it.
Watching the sun set and hearing the wind blow
See the shadows deepen as the sky glows
Hear the forest whisper, feel the fear inside you
See the twisted trees open wide for you
Midnight, no end in sight, terror surrounds you
Hiding in the darkest night, nothing for you to do (in the night)
Sailing alone a million miles away
You haven't seen another soul for days
The deepest ocean, the darkest night
The edge of the world is there for you
You're only safe at the break of dawn
When the fear subsides and the wind is calm
And the shadow fades to the corner of your mind
The moon is still there it just refuses to shine
So the sun becomes your friend for life
And the sea becomes a tiger in the night
And if you should die before you wake
Only you'll know what road to take
5. Heading West (instrumental)
This is about shoving off and driving to L.A., the land of dreams. The words are all written and I know where they go, but after all these years I still have not laid down the track. "Packin' my bags, tunin' up my car/Collectin' my cash and my credit cards/sumthin sumthin sumthin sumthin/Today's the day I leave for L.A." Drums, Guitar, Bass, and Juno synth.
6. Free Cheese (instrumental)
Drums recorded on the same day as The Young Ones in the high school band room. This is intentionally an instrumental, though missing a horn break in the middle. I credit Mike Walsh, bassist in my band at the time, for the title. Drums, Piano, Bass, Guitar.
7. Mystery Van (instrumental)
I only gave this track this title in 1996. It carried another title and lyrics which I have tuned out over the years. Too immature. But this track is truly the first thing I did on the four track. The percussion track is a basketball in my house's foyer, a trash can lid with hammer, a tambourine, claves. Ping-ponged. Then bass and two guitars. This recording is remastered in Pro Tools.
8. On Down the Road
Words in 1985 to the music of Southbound and Out, actually. Then stuck onto this music. Recording here was done at NCSA, and you'll hear a more live drumset sound. Also Bass, Piano, Guitar. Greg Travis lent his voice again after the fact, and I add some dreadful co-vocals.
I watched the sun go down
Edging its way through clouds of red
Sitting here on a Greyhound
Staring down the road ahead
Through the day and through the night
I don't even know why I left home
Now I'm worlds away from there
In a strange land all alone
But I'm happy, not lonely (And I will know the world)
As long as I'm on my own (like I know the back of my hand)
Maybe one day you'll understand (and a part of me will live)
And you'll join me and we'll be one (in every part of this land)
Will you be there when I return
With the knowledge of the road
With the tears that ran down your face
Such a long, long time ago
Will you give me respect or ridicule
Will you even be there at all
I may never come home to see you
I may never come home at all
As long as I keep moving (And I will know....)
I'll never lose my way
Like a fish that swms forever
Here tomorrow, gone today
I watched the sun go down
In a familiar part of the land
I got off the bus again
At the station where I began
And I saw you there waiting for me
But you didn't know I was there
I smiled, got back on the bus
Destination: everywhere
I'm going to see all the places
That I've already seen in my dreams
I'm going to meet all the people
That would never come look for me
9. Mystery
It's hard to expose some of these songs, but honesty is the best policy. This is a little puppy love song written by my virgin self. Odd phrasing. Piano, bass, drums, vocals, guitar.
Where is all the mystery? Where did it go?
All those secrets about you - where did they go?
A schoolboy in doubt I once was
Fantasies of you, of love - now it's all true
If only I had known all the things that I know now
Your maturing eyes told me No, nothing for me
I wondered if your heart could ever help you see
The times we came so close
To ever meeting, I would have showed you the most
If only I had known all the things that I know now
Afraid to touch; with a wink you'd show me how
If you had been mine, it would have been better back then
It's just another game - I'll never be the same
As I was then - Way back when
You'd never been touched - I needed you too much
We were such little kids
Now where did all the mystery go? 'Cause you're mine.
I've stripped you of your smile, sensitivities have expired
You made me a man and now what?
What can I discover after love?
If only I had known all the things that I know now
Afraid to touch; with a wink you'd show me how
If you had been mine, it would have been better back then
But I was just a kid, would it have made me a better man?
All words and music ©Evan Hause, BMI
---

P.S. I should mention that there are some songs of this vintage that are not here because they migrated onto "Adventres of Freddy." They are the music to Corner Store, Southbound and Out, and Gabriella. The new words to all those were written in the early 90's.