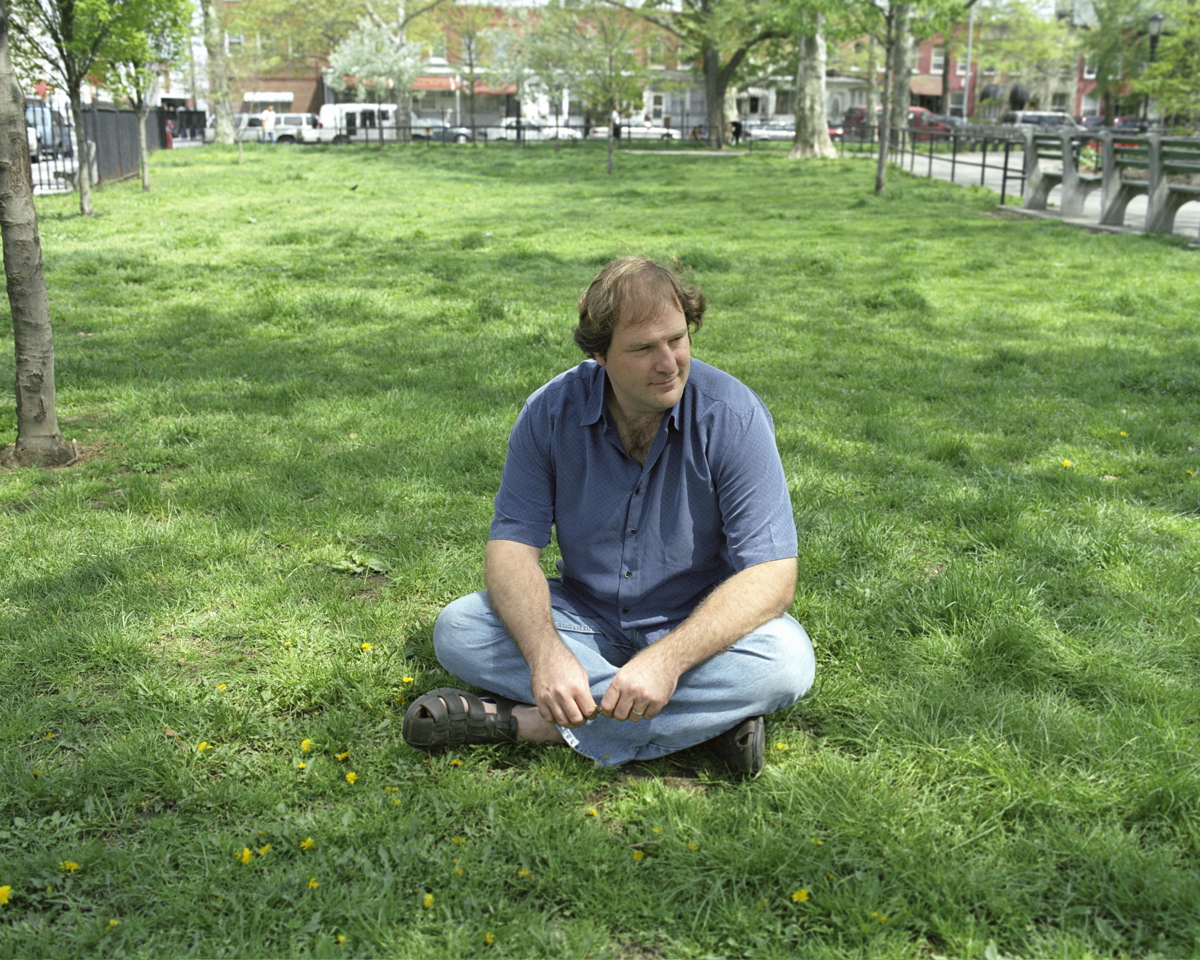 Photo by Rachel Watson
Bio
Evan Hause is a versatile and imaginative composer who, over the last thirty years, has worked in virtually every available contemporary music medium, and who has sought to bridge the gap between experimental and vernacular music in engaging and often surprising and dramatic ways. To a rich body of challenging, abstract chamber and ensemble works (his most commonly-performed), he has added rock albums, serious and light operas and mini-operas, orchestrations of electronic music, free improvisation groups, electronic and electro-acoustic music, instruction-music, traditional and surreal arrangements of music by other composers and rock groups, and music for young people. A highly-skilled performer himself, he has performed as a percussionist, guitarist, keyboardist, bassist, and vocalist and has conducted numerous works of his own (including his three operas) and other composers. His compositional time-scope ranges from small forms such as the rock or folk song and piano miniature, to sprawling symphonies and evening-length operas. His sonic influences draw from both the everyday American urban, media-saturated environment and its rural, earthy opposite, while his musical influences were strongly shaped by his early performing experiences in the symphony orchestra, the rock band, and the avante garde percussion or contemporary ensemble, as well as his work in sound recording and editing.
[End short bio]
In his compositional career and education, Hause has received several ASCAP Morton Gould awards; residencies at the Edward Albee "Barn," MacDowell Colony, and Atlantic Center for the Arts; grants from the Alice K. Ditson Fund of Columbia University and the Brooklyn Arts Council; the Rackham Regents and Dissertation Fellowships of the University of Michigan; the Herbert Elwell Composer Award of the Oberlin Conservatory; the Sanford Scholarship of the North Carolina School of the Arts; an Aspen Music Festival scholarship; and a composition prize from the International Trumpet Guild. Some music is published by E.B. Marks Music Company and is recorded on the Albany, Cadence, Cantaloupe, Equilibrium, GIA, and MSR labels.
Dr. Evan Hause was Assistant Professor of Theory, Composition, and Percussion at Pittsburg State University from 1996-1999, and taught musicianship at Concordia College-New York (2003-05) and the University of Michigan (1992, '94). As an editor/arranger he has also worked with Congressional Medal of the Arts awardees William Bolcom and Paquito d'Rivera, and with Alarm Will Sound on their Aphex Twin and Edgard Varèse projects. His reduced orchestration of William Bolcom's opera "A View From the Bridge" was produced by the Detroit Opera in April, 2014.
Hause was raised in North Carolina and currently resides in New Jersey. He earned the DMA in Composition from the University of Michigan, and the BM from the Oberlin Conservatory, with additional work at the North Carolina School of the Arts. His composition teachers include William Albright, William Bolcom, Randolph Coleman, Richard Hoffmann, and Sherwood Shaffer.
[End Medium bio]
RECENT EVENTS:
Dr. Hause has been at work on a new double vinyl LP of songs due for release in December, 2014 under the name "Dr. Hoss." In September of 2014, Eric Berlin released his recording of Hause's Trumpet Concerto on MSR Classics on the CD, "Fantastique." In 2013 the Creviston-Fader Duo premiered and recorded his Snake River Manual of Style for Electric Guitar and Alto Sax in New York City and Arizona. Also in 2013 Hause was in residence with the Carolina Chamber Music Festival, who gave the Premiere of a new Piano Quartet, and the year also saw the publication through the Hal Leonard Corporation of two works for young musicians: The Four Winds for young band, and Elephant Breath for young percussion quartet. Alarm Will Sound, the celebrated New York City chamber orchestra, frequently performs both his arrangement of Edgard Varèse's Poème Électronique and Aphex Twin's Omgyjya Switch 7 nationally and internationally at major festivals, include a summer, 2014 performance before 9,000 at Chicago's Millenium Park. Most recently the Varèse was featured at New York's Metropolitan Art Museum for which it received a glowing review in the New York Times, and it is due out on AWS's forthcoming "American Masters" CD on the Canteloupe label.
The Riverside Symphony gave the World Premiere of The Tree Without End in 2012 at Lincoln Center's Alice Tully Hall. Other forthcoming recordings include Sole Nero presenting Night Voyages for marimba-vibraphone and piano on the Equilibrium label. In 2011, Hause visited East Carolina University to perform his Concerto for Electric Guitar and Band. His Tango Variations for band by the University of North Texas Wind Symphony under Eugene Corporon on the UNT Gia label (also avalable on iTunes and Amazon mp3). the world premieres of his orchestration for publisher E.B. Marks of Cecilia Valdés (Cuban zarzuela by Gonzalo Roig) at the Granada International Music Festival in July, 2010; Tango Variations, by the University of Michigan Symphony Band under the direction of Michael Haithcock; Night Voyages by Well-Tempered Keyboards in Tyler, Texas on March 1, and of Passage, and an NEA-commissioned work for two vocalists and Chamber Orchestra by the Dogs of Desire based on Henry Hudson's last days set adrift by mutineers (March 6, 2009 in Albany, NY). His breakneck arrangement of Omgyjya Switch 7 by Aphex Twin was premiered at the 2005 Lincoln Center Festival (7/24/05) and released on the CD,"Acoustica" (Cantaloupe), which reached #24 on the Billboard Classical Crossover chart. (See press) It continues to be a hit of the AWS setlist, and has been featured at the Barbican in London (UK), Musikfest Bremen (Germany), Sacrum Profanum Festival in Krakow, Poland, and NYC's Ecstatic and SONiC Music Festivals among others. Hause's followup arrangement of Poème Électronique was premiered at Miller Theater in 2007, and has since been performed in Denver, Seattle, Missouri, and The Met Museum in New York City, among other places. Additionally, on behalf of E.B. Marks Music Company he has completed a performing orchestral edition of another great Cuban zarzuela, Maria la O by Ernesto Lecuona.
He has received recognition and praise for his opera trilogy, "The Defenestration Trilogy" based on the mysterious deaths of lesser known 1950's American personages. He conducted nine performances of his second chamber opera, Nightingale: The Last Days of James Forrestal at the Present Company Theatorium (NYC) in Spring of 2002. Opera News deemed the work "fresh and dramatic," and The Village Voice called it "powerful and haunting." The final work, Man: Biology of a Fall is based on the last days of biochemist Frank Olson and was premiered in October of 2007 in Brooklyn, NY. Both operas may be viewed in their entirety on YouTube.
Hause was the first Composer-in-Residence of the Carolina Chamber Music Festival in 2003. Two world premieres of chamber music and a concert dedicated in part to his music by NYC's Prism Players were given in 2003. His Spectral Caravan for NYC's Locrian Chamber Players was praised by the New York Times as "most compelling." Further among his many performing credits are a musical directorship from the piano for the Hourglass Group production revival of Mae West's 1926 play, Sex, at the Gershwin Theater, for which he co-composed incidental music with Steven Bernstein. The Albany Symphony commissioned Trumpet Concerto and a burlesque for voices and chamber orchestra entitled U.S. Lowball (a loving parody of Harry Partch's U.S. Highball). He created two works for the acclaimed Evansville, Indiana-based ensemble, Tales & Scales, one of which was a co-composition and orchestration of an hour-long work (Pandora's Box) by Grawemeyer Award winning composer George Tsontakis.
His music has been commissioned or performed by the Pittsburgh New Music Ensemble, Salt Lake City Contemporary Music Consortium, Albany, Boston, Phoenix, Utah, Louisville, Memphis, Brooklyn and Grand Rapids Symphonies, Oberlin Percussion Group and Contemporary Ensemble, pianist Blair McMillen, bassonist Stephen Walt, Music for Homemade Instruments, percussionist Chris Wabich, Sole Nero, cellist Nathaniel Chaitkin, Infinity Brass, clarinetist Maureen Hurd, and at the Banff Centre for the Arts, CalArts, June in Buffalo, U. S. Marine Corps, the Yellow Barn Festival, and the "Spring in Havana" Electronic Music Festival, Aspen Music Festival, as well as at numerous colleges and universities, such as CalArts, Cincinnati Conservatory, and Universities of Florida, Wisconsin, Massachusetts, Greensboro, Oklahoma, Iowa and Louisiana. His music has been broadcast by radio stations in Canada, Germany, and the U.S. (including WKCR and WQXR in New York) and his music has been performed in Japan, South Korea, Jordan, Mexico, England, France, Italy, Portugal, Greece, Germany, Holland, Thailand, Taiwan, Turkey, Australia, Spain, Cuba, Venezuela and Brazil. He has been nominated for the CalArts Herb Alpert Award and awards from the American Academy of Arts and Letters.
His uniquely varied activities as a performer further have included: playing guitar, percussion, and piano in various improvisatory groups (such as his group Condensation) with such musicians as Colin Stetson, John Hicks, Lukas Ligeti, Jed Distler and Ron Stabinsky; conducting the world premiere of Andrew Mead's Concerto for Alto Saxophone and 12 Instruments with Timothy McAllister as soloist; playing electric guitar for Alarm Will Sound and percussion for the S.E.M Ensemble; Manhattan Chamber Orchestra and the Locrian Chamber Players, and numerous performances as solo singer-songwriter across the Midwest and New York City. He studied percussion with Michael Rosen, Michael Udow, Massie Johnson, and Salvatore Rabbio. As an orchestral percussionist/timpanist he has played in the North Carolina, Winston-Salem, Greensboro, Albany (NY), Charleston (SC), Ann Arbor, Flint (MI) Symphonies and the Long Island Philharmonic among others. As a youngster he was the 1985 North Carolina All-State Timpanist for band and orchestra. He has written over 80 rock songs, thirteen of which are found on his 1998 CD release, Adventures of Freddy, and 16 more will be released on a forthcoming double vinyl/CD/download in 2014.
---